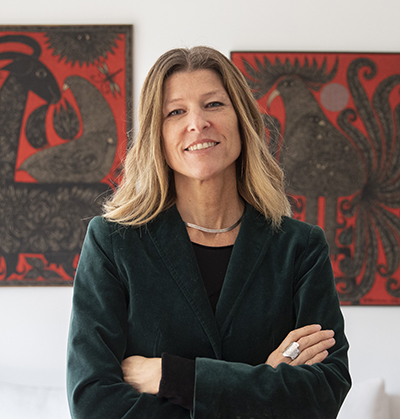 Magdalena Claro
Directora
Profesora Asociada, Facultad de Educación UC.
Esta dirección de correo electrónico está siendo protegida contra los robots de spam. Necesita tener JavaScript habilitado para poder verlo.
Grados Académicos
Doctora en Ciencias de la Ingeniería (Ciencias de la Computación). Pontificia Universidad Católica de Chile.
Master of Arts in Social Sciences in Education. Stanford University, Estados Unidos.
Socióloga. Pontificia Universidad Católica de Chile.
Proyectos de Investigación
2021-2024. Prácticas pedagógicas de docentes destacados para mediar el aprendizaje de estudiantes en contexto digital: Estudio de casos. Fondecyt Regular N 1211553-ANID. Investigadora Principal.
2019-2020. Convenio Construyendo Aulas Innovadoras para Chile. Financiamiento Centro de Innovación MINEDUC. Directora Covenio.
2019. Estudio Cualitativo sobre Alfabetización Digital. Financiamiento Agencia de la Calidad de Educación. Investigadora Experta.
2017. Evaluación Programa "Me Conecto para Aprender". Financiamiento MINEDUC-UNESCO. Investigadora Experta.
2016 – 2018. A New Approach to Digital Inclusion: Understanding the Association between Digital Skills, Use of Digital Resources and Tangible Outcomes in the Population of the Metropolitan Region of Chile. Fondecyt de Iniciación Nº 11150341. Investigadora Principal .
2016-2018. International network for a comparative study of the populations' digital skills, use of digital resources and tangible outcomes in Chile, Uruguay and The Netherlands. Programa de Cooperación Internacional Proyectos de Apoyo a la Formación de Redes Internacionales entre Centros de Investigación, 150079. Investigadora Principal.
2016 – 2017. Usos, Oportunidades y Riesgos en el Uso de TIC por parte de Niños, Niñas y Adolescentes en Chile. Financiamiento MINEDUC-UNESCO. Co - investigadora Proyecto PUCV.
2015 – 2017. Desarrollo de Habilidades Digitales a través de un Sistema de Diseño y Gestión de Tareas Escolares Basadas en la Resolución de Problemas de Información y Comunicación en Internet para Docentes. FONDEF-IDeA2. Investigadora Principal Proyecto
2015 – 2017. Identificación de las Características de las Tareas de Investigación en Internet que Promueven Procesos Cognitivos Superiores y Mejores Estrategias de Búsqueda en Estudiantes de Educación Media. Fondecyt Nº 1151044.
Publicaciones Recientes
Cabello, P., Claro, M., Rojas, R., & Trucco, D. (2020). Children's and adolescents' digital access in Chile: the role of digital access modalities in digital uses and skills. Journal of Children and Media. 1-19.

Santana, M., Cabezas, V, Nussbaum, M., Cabello, T., Claro, M & Maldonado, L. (2020).

How Prioritizing Number Skills Can Act as a Mediator for Socioeconomic Inequality within a National Math Compulsory Curriculum

. Elementary School Journal.

Claro, M. y Cabello, P (2019). El futuro de las políticas educativas digitales en Chile desde un enfoque ecológico. En: Carrasco, A. y Flores, L.M. (Eds.) De la Reforma a la Transformación: Capacidades, innovaciones y regulación de la educación chilena (pp. 217-241). Santiago: Ediciones UC.

Claro, M., Salinas, A., Cabello-Hutt, T., San Martín, E., Preiss, D., Valenzuela, S., & Jara, I. (2018). Teaching in a Digital Environment (TIDE): Defining and measuring teachers' capacity to develop students' digital information and communication skills. Computers & Education. Vol. 121, June 2018, Pages 162-174.

Cabello-Hutt, T., Cabello, P., & Claro, M. (2017). Online opportunities and risks for children and adolescents: the role of digital skills, age, gender, and parental mediation in Brazil. NEW MEDIA & SOCIETY, August. https://doi.org/10.1177/1461444817724168.
Livingstone, S., Lemish, D., Lim, S. S., Bulger, M., Cabello, P., Claro, M., & Nayar, P. (2017). Global perspectives on children's digital opportunities: an emerging research and policy agenda. PEDIATRICS (en prensa)

http://eprints.lse.ac.uk/74197/

.
Cabello, P. & Claro, M. (2017). Public policies for digital inclusion among young people in Chile: reflections on access, opportunities, outcomes and rights. Journal of Children and Media, 11 (2), 248-251.

Claro, M., Nussbaum, M., López, X., & Contardo, V. (2017). Differences in Views of School Principals and Teachers regarding Technology Integration. Educational Technology & Society, 20 (3), 42–53.